The 2010s brought us a great deal of cinematic masterpieces. So, to ring in the new roaring 20s, I have decided to make a list of what I consider to be my twenty-one favorite films of the decade.
Get Out (Jordan Peele, 2017) DP: Toby Oliver
WARNING: This is a list of my favorite films, not a "best of" list. Though I do take into account cinematic factors to rank films, this list has a lot of my taste and preferences. You may find some widely renowned and awarded films and some other lesser known (yet still amazing) ones.
WARNING NO. 2: The films listed below are in no particular order of preference, except for the fact that I left my two absolute favorites for last.
1. Short Term 12 (Destin Daniel Cretton, 2013): Unfairly underrated, this is a movie that managed to touch every fiber of my being (and keeps doing so every time I rewatch it). With an amazing score, a beautifully written story and haunting performances by both Brie Larson (this is the role she should've won the Oscar for) and LaKeith Stanfield, Short Term 12 is one of the best films I saw in the decade and one of my all-time favorites.
2. Three Billboards Outside Ebbing, Missouri (Martin McDonagh, 2017): Another film that holds a very dear place in my heart. A black comedy with such a strong story and raw performances by a truly outstanding ensemble. One of the biggest Oscar snubs of the decade.
3. Frances Ha (Noah Baumbach, 2012): With its beautifully quirky, unique screenplay, Frances Ha speaks about life and adulthood in a simple yet poetic way, perfectly depicting the struggle of all of us twenty-somethings going through life.
Frances Ha (Noah Baumbach, 2012) DP: Sam Levy
4. Arrival (Denis Villeneuve, 2016): Arrival is a sci-fi film like no other. Not only is it masterful in its direction, cinematography and score. Villeneuve's fresh take on the alien subgenre creates a gripping story that delves into the depths of human emotion and lets the viewer reach a state of catharsis that simply cannot be explained in words.
5. Interstellar (Christopher Nolan, 2014): Though arguably one of Nolan's lesser films, I felt a connection with Interstellar from the moment I saw it. It is visually breathtaking and Hans Zimmer's score is simply and utterly perfect. How Ridley Scott's The Martian managed to get a nomination the following year while this film didn't beats me to this day.
6. 20th Century Women (Mike Mills, 2016): I'm a huge Mike Mills fan, a writer-director with a relatively short career, whose screenplays have given birth to some of the most beautiful, touching stores I have seen in film (it's safe to say this isn't the only film of his on this list). 20th Century Women is a film that feels close to home. It's the film that started @amovie.aday (my Instagram page). It's a film that, all in all, fives me hope. And that's probably the best description I can give.
20th Century Women (Mike Mills, 2016) DP: Sean Porter
7. Me and Earl and the Dying Girl (Alfonso Gómez-Rejón, 2015): I'm a sucker for coming-of-age movies. And this one is a worthy example from the genre. Extremely well-crafted and beautifully written, this movie became an instant favorite. Also (no spoilers ahead), the scene with Brian Eno's The Big Ship in the background is one of the most hauntingly beautiful movie scenes I have ever seen.
8. BlacKkKlansman (Spike Lee, 2018): I have already posted a full review of this film, so I'm just going to start by saying this: When BlacKkKlansman ended, I stayed at the cinema for a while, sitting quietly in absolute awe. With this film, Spike Lee not only proves to be a master of storytelling (once again), but also creates a poignant social critique of our times, giving birth to a powerful story full of wit, humor, and above all, relevance. As I've said before, BlacKkKlansman is the film we needed to see back in the 1970s. And it's the film we still need to see today.
9. Drive (Nicolas Winding Refn, 2011): With great performances and a thoroughly executed story, this film is an outstanding example of the neo-noir genre. Also, it could easily be on this list for two reasons alone: the score and the kiss sequence (which is, frankly, one of the most amazing kisses in movie history).
Drive (Nicolas Winding Refn, 2011) DP: Newton Thomas Sigel
10. Nightcrawler (Dan Gilroy, 2014): Another great neo-noir, this is the film that established Jake Gyllenhaal as a force to be reckoned with (Oscar snub, anyone?). Aesthetically pleasing and amazingly written, Nightcrawler is definitely one of the best thrillers of the decade.
11. Straight Outta Compton (F. Gary Gray, 2015): It may be my love for rap music, but I could watch this film a thousand times without getting bored. F. Gary Gray's homage to the members of N.W.A is amazingly thought-out and equally sentimental. And this can only be improved by the great performances delivered by its phenomenal ensemble. The fact that it only received one Oscar nomination (for best original screenplay, which was absolutely earned) is simply and utterly outrageous.
12. Birdman or (The Unexpected Virtue of Ignorance) (Alejandro González-Iñárritu, 2014): One of the most innovative films of the decade, Birdman is absolutely captivating, both visually and storywise. With a mesmerizing work of direction and an outstanding cast that delivers engaging performances, this film is an amazing example of what cinema can achieve nowadays.
Birdman or (The Unexpected Virtue of Ignorance) (Alejandro González-Iñárritu, 2014) DP: Emmanuel Lubezki
13. The Perks of Being a Wallflower (Stephen Chbosky, 2012): Stephen Chbosky's adaptation of his own book is an exceptional coming-of-age story that tackles issues that are otherwise poorly addressed by the genre. But regardless of its undeniable cinematic achievement, the real reason why this film is on this list is because of what it made me feel. The first time I saw it I couldn't stop crying and, quite frankly, I didn't understand why. I just seemed to connect with it in ways that I can't describe. And that, to me, is ultimately what film is all about.
14. Ex Machina (Alex Garland, 2014): Ex Machina is, simply put, a masterpiece. With a mind-blowing story and wonderful visuals, Alex Garland's directorial debut gives birth to, hands down, one of the best sci-fi films of the decade (if not the best). Plus, I've said it before and I'll say it again, the screenplay is nothing short of cinematic perfection.
Ex Machina (Alex Garland, 2014) DP: Rob Hardy
15. Hereditary (Ari Aster, 2018): And speaking of impressive debuts, Ari Aster's first feature brought us one of the decade's greatest masterpieces of horror. Blending dread and drama, his psychological approach finds in the horror genre the perfect place to speak about pain and grief, and about the depths of human emotion. Hereditary is not only frightening but also extremely poignant, thanks to both Aster's mastery and a gut-wrenching performance by Toni Collette.
16. Prisoners (Denis Villeneuve, 2013): The 2010s saw the arrival (no pun intended) of several outstanding newcomers behind the lens. In Prisoners, Denis Villeneuve presents a poignant, anxiety-inducing story that ranks amongst the best thrillers of the decade. Its stellar cast (led by Jake Gyllenhaal, who has had a pretty good run in the past years) delivers great performances and Roger Deakins' cinematography is, as usual, absolutely brilliant.
Prisoners (Denis Villeneuve, 2013) DP: Roger Deakins
17. Beginners (Mike Mills, 2010): If we talk about films that hold a special place in my heart, this is the ultimate choice. Another superb work by Mike Mills, Beginners is not only amazingly written (it has to be one of my favorite screenplays ever), but it's a story that feels honest and painful at the same time, reaching a level of consciousness that reflects perfectly in the development of its main characters. It's a film about life, love and loss. And about the beauty that's found in it all.
18. Whiplash (Damien Chazelle, 2014): Whiplash is Damien Chazelle's true masterpiece. It is single-handedly one of the best works of direction I've seen in the past years. The screenplay, the cinematography and the score are all exceptional, while J.K. Simmons delivers the performance of a lifetime (and definitely one of the greatest of the decade). The chemistry between him and Miles Teller is beyond words, reaching its climax in one of the best, most thrilling final sequences I have ever seen. The look they exchange at the end gives me chills every single time and is reason enough for this film to be on this list.
Whiplash (Damien Chazelle, 2014) DP: Sharone Meir
19. In The Fade (Fatih Akin, 2017): In The Fade might not be one of the best films of the decade, objectively speaking, but it's certainly one of the most powerful ones. When I finished watching this film, I was static. I hadn't watched a movie, I'd felt it. Diane Kruger's performance is riveting and the story depicted resembles that of a Greek tragedy, allowing the viewer to achieve a catharsis that, in my case, left me absolutely speechless.
20. Get Out (Jordan Peele, 2017): Here's to one of the most extraordinary directorial debuts of all time. Jordan Peele's Get Out revolutionized the horror genre, creating an impeccable screenplay that not only tells an amazingly unique horror story, but also presents a profound study of our times and of the structural racism that lies on the foundations of modern society. Peele proves horror can be more than gore and jump scares. He proves film is still relevant as a powerful weapon to speak up. And he proves to be one of the greatest masters of horror of our times.
21. The Social Network (David Fincher, 2010): This film is pure cinematic PERFECTION. There's no other way to describe it. The direction, the screenplay (5/5), the score (by far the best one of the decade), the editing, the acting... I could go on. David Fincher ups his game with The Social Network, a fast-paced innovative drama that proves you can still tell a story based on true facts without relying on the tradicional Oscar bait biopic (let's take a moment of silence to remember how this film got snubbed, losing to Tom Hooper's The King's Speech). The opening scene and the following sequence are both displays of mastery in every sense. The Social Network is Fincher reaching his highest point as a director. It's the achievement of a lifetime. And it's the only film I can think of as ultimate film of the decade.
The Social Network (David Fincher, 2010) DP: Jeff Cronenweth
The Social Network (David Fincher, 2010) DP: Jeff Cronenweth
Honorable mentions
To finish this list, here are a few other films that I love and deserve an honorable mention at least:
Black Swan (Darren Aronofsky, 2010)
Mommy (Xavier Dolan, 2014)
Scott Pilgrim vs. The World (Edgar Wright, 2010)
The Wolf of Wall Street (Martin Scorsese, 2013)
THE END. Happy New Year, folks! And may the new decade bring tons of other great films.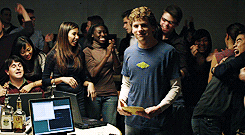 -D.